July 16, 2008 - Ridgefield, CT: Stalker Land Surveying, Inc visited the "New World Kids" at The Aldrich Contemporary Art Museum, an experimental summer program for kids ages 5 & 6. The goal of the program is to encourage creative thinking through exposure to art and other outside influences. The summer campers were given a chance to "grill" owner Roger Stalker, and survey technician Matt Carbone about the various types of "lines" they encounter as surveyors. The questions and comments about the presentation and the equipment brought for display, were as diverse and inspiring as the group of children assembled. Following the discussion, each camper was given the opportunity to look through the optics of one of the survey instruments on display.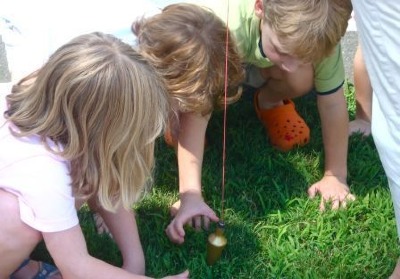 Curious kids or future land surveyors examine a "plumb line" and surveyors plumb bob.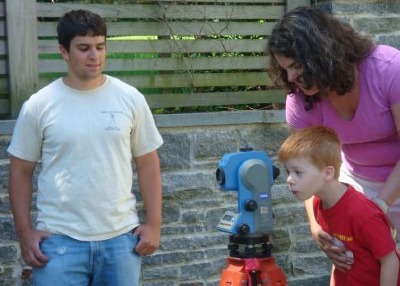 Matt Carbone looks on as one of the campers looks down the "line of sight" through the optics of the Zeiss Elta 50 total Station.

For more information on this or other programs please visit: www.aldrichart.org.